*Artist Concept of Preliminary Design
Waterfront Living Redefined
In the concrete jungle of Toronto, it's easy to forget that you're situated on the shores of one of the greatest lakes in the land. We don't forget that at Concord Canada House, where the waterfront defines our community. It is a reflection of the past, a vibrant connection to the contemporary, and a gateway to an iconic future.
At Toronto's Intersection
Bordered by the waterfront and nearby Toronto's Fashion, Entertainment, and Financial district — this is downtown Toronto. Every city amenity, attraction, transit option, and notable restaurant is close at hand when you live at Concord Canada House.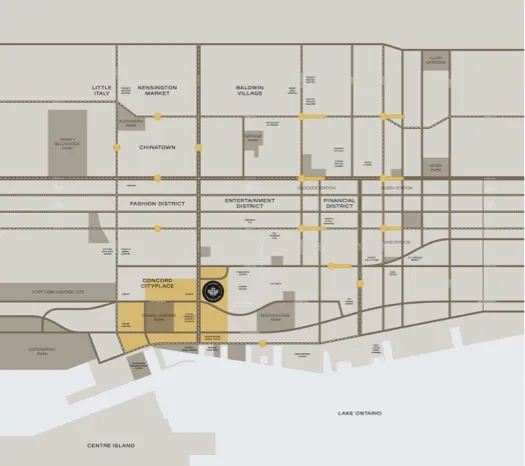 The Transformation Of Toronto's Waterfront
From the first settlers in the 1700's who called the Toronto waterfront home, to the discovery and preservation of an 1830's schooner on the Concord CityPlace site, Concord Canada House is a timeless community and a continuation of a rich Canadian history.
The waterfront has always been the epicenter of activity in Toronto. A busy hub for trade by boat in the 1800's made it ideal for having manufacturing facilities adjacent to the waterfront, and factories on the lakeshore allowed supplies to be easily received and finished products effectively distributed. By the mid-1800's however, land was becoming scarce and was beginning to limit the expansion of trade. In the 1850's, the first campaign of lake-filling was undertaken to expand the shore land south to the what is now the Esplanade.
The early 1900's saw the character of the waterfront change, with industry concentrated along the water, the lakefront and the downtown core of Toronto had become an industrial-focused part of the city. From the turn of the century to the 1970's, the waterfront didn't have many residents and large infrastructure projects like the Gardiner Expressway were built to connect the East and West of Toronto. In the 1970's however, Toronto started to rediscover its waterfront. With the phasing of the industrial use of lands, and the ongoing campaign to extend the land into the lake, there was now enough space to accommodate more residents.
Concord Canada House is located within the Concord CityPlace community — the city's largest residential development. When completed, the development will consist of 31 residential towers, 10,000 homes, and more than 20,000 residents.
In addition to residential homes, there are 120,000 square feet of retail space, the eight-acre Canoe Landing Park, and the brand-new Canoe Landing Community Recreation centre.
Filled primarily with singles and young couples between the ages of 25 to 44, this is a trendy and emerging neighbourhood that's redefining Toronto's waterfront. This highly walkable neighbourhood, with a walk score of 96, offers the best of Toronto in one amazing place.